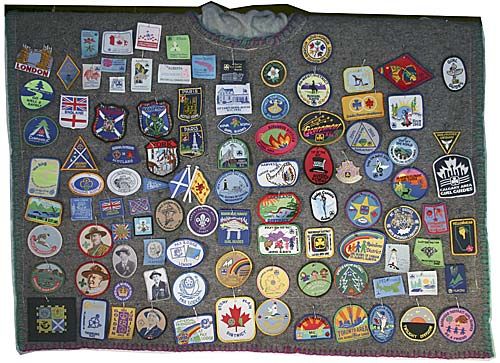 History
One of the traditions of Scouting is the Campfire Blanket. This is, of course, to keep you warm while sat around the campfire; but it is also a place to put all the various badges you have earned over your years in Scouting, but are no longer able to have on your uniform.
Many Campfire Blankets are in 'poncho' style, with a central hole to put your head through. If yours is a normal blanket, you can always cut such a hole and securely stitch around it to prevent the blanket from fraying.
Some older scout leaders have blankets with hundreds of event badges from their life in Scouting. You can often see these at scout camps and events.
Obtaining a Blanket
Please note
You should make sure to get wool or wool blend – avoid artificial fibres such as fleece or 100% polyester, as they can catch fire rather easily from sparks, and avoid cotton as it is too thin and can get waterlogged.
Many blankets you find will be a Wool/Artificial blend, such as 40/60 or 80/20. This is not necessarily a problem as long as they are flame retardant, but be sure to check out the label before purchasing. The higher the wool content, the better the fire resistant properties, and the better the blanket will be at keeping you warm and dry.
You should be able to pick up a decent thick woollen blanket on TradeMe for not too much money (about $50 for 40%-60% wool blend). Shops like Kathmandu and Farmers may stock them in the winter, but usually only sell 100% polyester which is not fire-safe. However, you can also obtain a good blanket from Scouting Direct here in either Grey or Khaki (80% wool; about $73). Army Surplus blankets can be obtained for about $45 for a 60% wool blend from Army and Outdoors.
If you want 100% wool, then be prepared to pay for it. There is one available from NZWoolBlankets but even on sale it will set you back $150 or more. Pure wool is warmer and slightly safer, but comes at a premium.
You should be careful about washing wool blankets, and never tumble-dry them.
Badges
There are many badges you can place onto your campfire blanket, and each one will give you a new story to tell.
Kea Badges from your old Kea uniform can be moved onto your campfire blanket once you move up to Cubs – and when you move up to Scouts and later, your Cub badges can also be placed there.
Event badges can go on the blanket, once they move off of your uniform. Generally, only 3 event badges are on your uniform, so older ones can be taken off to make room for new ones and then placed on the blanket.
Special badges can include special awards from leaders, or from campsites or other locations. Some larger campsites sell commemorative badges – for example, if you ever visit Brownsea Island in the UK (the location of the first Scout camp ever) then you can buy a special blanket badge from their shop. King Louie is well known for handing out special badges at events if he is asked nicely…
Traded badges are any badges you obtain from other scout groups. These could be anything – their troop badge, old event badges, and so on. Spare badges from our group get traded with others and the returned badges can help to fill out blankets.
Attaching badges
Some badges are iron-on; these can be identified from the backing, which is more shiny. These need a very hot iron to melt the glue, and are then ironed onto the blanket. The Founder's Day badges, and the Chil badge, are of this sort.
Most badges, though, need to be either sewn onto the blanket, or glued on with a tube of fabric glue. Sewing is usually the easiest, as it also allows the badges to be removed and repositioned in the future if necessary. If sewing the badge on, pin it in place first, and then work your way around the edge with a blanket stitch. With practice, you'll have no problems.